Im sorry... I'm not available for a long time.. Cuz im still a student so, i have to finish my examination first... Im really really sorry...

Ghost... what do you think about that word?? something bad?? something that sometimes following you?? They can see us, but we can't see them... Now, what happened if we try to make or find or something else to the unseeing creature??


Maybe one of you have already known about this TV programme... but i just share what i think interested...


Ghost Lab is a weekly American paranormal documentary television series that premiered on October 6, 2009 on the Discovery Channel. Produced by Paper Route Productions and Go Go Luckey Entertainment, the program is narrated by Mike Rowe. It follows ghost-hunting brothers Brad and Barry Klinge, who founded Everyday Paranormal (EP) in October 2007.
Everyday Paranormal is a paranormal investigation team whose stated mission is to "visit the most haunted places in America, find evidence, and test new theories to probe the existence of the afterlife" using a fringe-scientific approach.
In addition to Brad and Barry, the team included members Steve Harris, Hector Cisneros, and Katie Burr. Other members included Jason Worden, Ashlee Lehman (Formerly Ashlee Hillhouse), and Steve Hock. Ghost Lab remains the name of EP's mobile command center.
On October 14, 2009, Brad and Barry Klinge were interviewed on The Pat & Brian Show about the origins of Everyday Paranormal, current investigations, and equipment use. On October 30, 2009, Larry King interviewed the brothers via satellite on CNN's Larry King Live.

You can watch this TV programme from their official website here


Equipment and techniques used
During investigations, the team used various investigation equipment, including

thermographic cameras

,

infrared cameras, digital audio recorders

,

data loggers

,

EMF meters

,

laser thermometers

,

motion detectors

, and

EVP

recorders, as well as a mobile

command center

called the

Ghost Lab

, which featured interactive computer monitors, noise filtering audio programs, and various high tech gear. The team also used a variety of paranormal theories to test out some of their techniques during an investigation.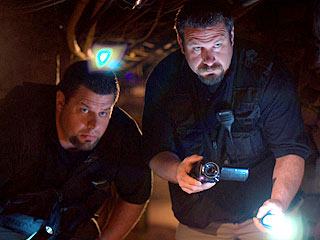 credit : "wikipedia.org"